---
WARBIRDS RESOURCE GROUP
>
PREVIOUS PAGE
---
The Warbirds Resource Group was formed to provide a starting point for an individual looking to learn about historical military aviation, primarily centered around the World War II era but eventually it will include from the end of World War I to the beginning of the Vietnam War. I hope that these pages will provide you with the information you are looking for or at least be able to point you in the right direction.

If you wish to help just e-mail Scott D. Rose, Senior Editor.
---
WHATS NEW:
April 2015:
Powerplants - Pratt & Whitney R-2000 Twin Wasp - Updated
Powerplants - Wright R-1300 Cyclone 7 - NEW

March 2015:
The Fouga Magister section has been overhauled and numerous new profiles added. There are still more profiles in the works.

Registry - Texan/42-85883 - Updated

February 2015:
---
January 2015:
HAPPY NEW YEAR!!!
January has been overhaul the B-25 Registry month and it is complete! All the information I have on the status of B-25 Mitchells has been updated in the registry. Now onto the Luftwaffe Registry!.

WHATS NEW ARCHIVES: 2014 – 2013 – 2012 – 2011 – 2010 – 2009

---
FEATURED SECTIONS: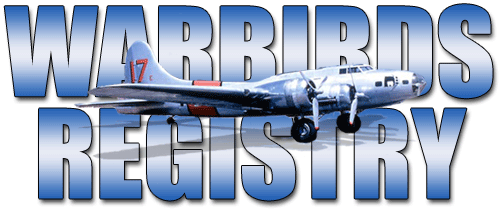 ---
WARBIRDS RESOURCE GROUP
>
PREVIOUS PAGE
---