---
LUFTWAFFE RESOURCE CENTER
>
BOMBERS
>
PREVIOUS PAGE
---
Arado Ar 234
---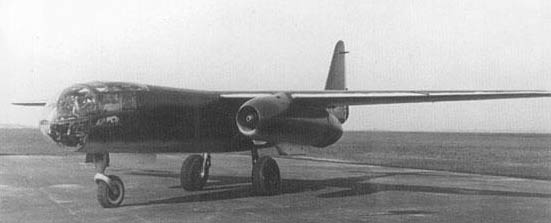 ---
Type: Single-seat reconaissance bomber
Origin: Arado Handelsgesellschaft Warnedmunde
Models: Ar 234B & Ar 234C
First Flight:
Ar 234B-0: June 8, 1944
Service Delivery: September 1944
Final Delivery: N/A
Number Produced: N/A


---

Engine:
Ar 234B:
Two Junkers Jumo 004B axial Turbojets
Thrust: 900kg (1,980lb) thrust

Ar 234C:
Four BMW 003 axial Turbojets
Thrust: N/A


---

Dimensions:
Span: 14.2m (46 ft. 3.5 in.)
Length: 12.65m (41 ft. 5.5 in.)
Height: 4.3m (14 ft. 1.25 in.)

Weights:
Empty: 5200kg (11,464 lbs.)
Loaded: 8410kg (18,541 lbs.)
Maximum with rocket take-off boost: 9850kg (21,715 lb.)


---

Performance:
Maximum speed: 742kph (461mph)
Ceiling: 10,000m (32,800 ft.)
Range on internal fuel (clean):
1630km (1,013 Miles)
Range with 3,300lb bomb load:
1,100km (684 Miles)


---

Armament:
Two fixed MG 151 20mm cannon in rear fuselage, firing to the rear and sighted by periscope (there is some speculation that this was never fitted to production models)

Bomb Load:
various combinations of bombs slung under fuselage and/or engines to maximum of 1500kg (3,300lb)

---
The Arado Ar 234 was the world's first operational jet powered bomber, built by the German Arado company in the closing stages of World War II. In the field it was used almost entirely in the reconnaissance role, but in its few uses as a bomber it proved to be nearly impossible to intercept.
It is commonly known as Blitz ("lightning"), though this name refers only to the B-2 bomber variant, and it is not clear whether it was ever formally applied instead of being derived from the informal term Blitz-Bomber (roughly, "very fast bomber"). The alternate name Hecht ("pike") is derived from one of the units equipped with this plane, Sonderkommando Hecht.

---
Additional Images:


Ar 234C with 4 BMW 003 turbojets.
---
Sources:
Gunston, Bill & Wood, Tony -
Hitler's Luftwaffe
, 1977, Salamander Books Ltd., London
---
LUFTWAFFE RESOURCE CENTER
>
BOMBERS
>
PREVIOUS PAGE
---