---
LUFTWAFFE RESOURCE CENTER
>
FIGHTERS/DESTROYERS
>
PREVIOUS PAGE
---
Heinkel He 112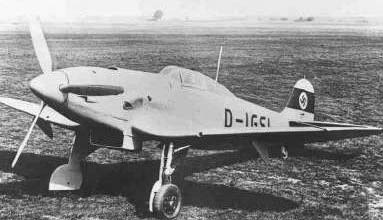 ---
Origin: Ernst Heinkel AG
Models: He 100 B-0 and He 100B-1
Type: Single-seat fighter
First Flight:
He 112V-1: September 1935
He 112B: May 1937
Final Delivery:
Romania: September 1939
Production: N/A (At least 54)


---

Engine:
Model: Junkers Jumo 210Ea
Type: Inverted-vee-12 liquid-cooled
Number: One Horsepower: 680 hp

Dimensions:
Span: 29 ft. 10¼ in. (9.1m)
Length: 30 ft. 6 in. (9.3m)
Height: 12 ft. 7½ in. (3.65m)


Weights:
Empty: 1620kg (3,571 lbs.)
Maximum Loaded: 2250 kg (4,960 lbs.)

Performance:
Maximum speed: 510kph (317mph)
Service Ceiling: 8,500m (27,890 ft.)
Range: 1100km (684 Miles)


---

Armament:
Two 20mm Oerlikon MG FF Cannon in Outer Wings
Two 7.92mm Rheinmetall MG 17 machine guns in the fuselage sides

Bomb load:
Underwing racks for six 22 lb. (10 kg.) fragmentation bombs.

---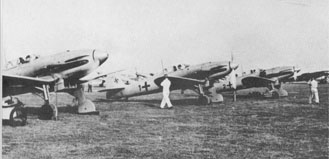 The Heinkel He 112 was a fighter aircraft designed by Walter and Siegfried Günter. It was one of four aircraft designed to compete for the Luftwaffe's 1933 fighter contract, which was eventually won by the Messerschmitt Bf 109. Small numbers were used for a short time by the Luftwaffe, and small runs were completed for several other countries, but less than 100 were completed in total. It remains one of the least known production fighter designs.
---
Sources:
Gunston, Bill & Wood, Tony -
Hitler's Luftwaffe
, 1977, Salamander Books Ltd., London
Wikipedia - He 112
---
LUFTWAFFE RESOURCE CENTER
>
FIGHTERS/DESTROYERS
>
PREVIOUS PAGE
---