Heinkel He 111
Design/Development
After its defeat in World War I, Germany was banned from operating an air force by the Treaty of Versailles. German re-armament began earnestly in the 1930s and was initially kept secret because it violated the treaty. Consequently, the early development of military bombers was disguised as a development program for civilian transport aircraft. Among those designers seeking to benefit from German re-armament was Ernst Heinkel. Heinkel decided to create the world's fastest passenger aircraft, a goal met with scepticism by Germany's aircraft industry and political leadership. Heinkel entrusted development to Siegfried and Walter Günter, both fairly new to the company and untested.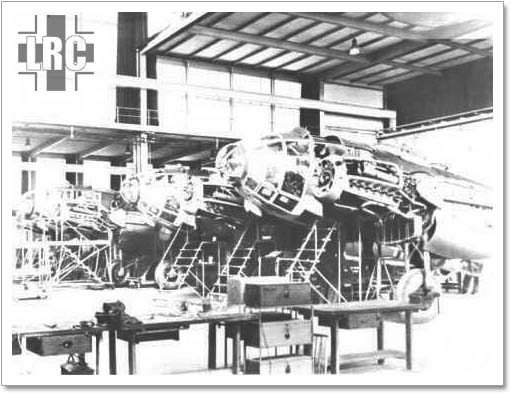 He 111 Production line.
In June 1933 Albert Kesselring visited Heinkel's offices. Kesselring was head of the Luftwaffe Administration Office: at that point Germany did not have a State Aviation Ministry but only an aviation commissariat, the Luftfahrtkommissariat. Kesselring was hoping to build a new air force out of the Flying Corps being constructed in the Reichswehr and required a modern force of aircraft. Kesselring convinced Heinkel to move his factory from Warnemünde to Rostock and turn it over to mass production with a force of 3,000 employees. Heinkel began work on the new design, which garnered urgency as the American Lockheed 12, Boeing 247 and Douglas DC-2 began to appear. Features of the He 111 were apparent in the Heinkel He 70. The first single-engined He 70 Blitz ("Lightning") rolled off the line in 1932 and the type immediately started breaking records. In the normal four-passenger version its speed reached 380 km/h (230 mph), when powered by a 447 kW (600 hp) BMW VI engine. The He 70 was designed with an elliptical wing, which the Günther brothers had already incorporated into the Bäumer Sausewind before they joined Heinkel. This wing design became a feature in this and many subsequent designs they developed. The He 70 drew the interest of the Luftwaffe, which was looking for an aircraft with dual bomber and transport capabilities. The He 111 was a twin-engine version of the Blitz, preserving the elliptical inverted gull wing, small rounded control surfaces and BMW engines, so that the new design was often called the Doppel-Blitz ("Double Lightning"). When the Dornier Do 17 displaced the He 70, Heinkel needed a twin-engine design to match its competitors. Heinkel spent 200,000 man hours designing the He 111. The fuselage length was extended to just over 17.4 m/57 ft (from 11.7 m/38 ft 4½ in) and wingspan to 22.6 m/74 ft (from 14.6 m/48 ft).
Sources:
Gunston, Bill & Wood, Tony -
Hitler's Luftwaffe
, 1977, Salamander Books Ltd., London
WikiPedia - Heinkel He 111