---
LUFTWAFFE RESOURCE CENTER
>
FOREIGN BUILT AIRCRAFT
>
PREVIOUS PAGE
---
Avia B-534
Avia B-534 was Czech-built fighter. German forces captured about 350 planes (including Bk-534). These were concentrated at the airfields of Merseburg, Erding near Munich and several others, whence they were distributed to Luftwaffe units and offered to the satellite states. Luftwaffe organized a conversion course (so-called Avia Lehrgang) in Herzogenaurach. The ex-Czechoslovak fighters were used mainly as training machines with A/B Schulen and the Jagdfliegerschulen both on German and occupied soil. Some of the aircraft were used for special purposes (see carrier-capable Bk-534), especially a group of B-534 playing the Polish PZL-11c fighters in the "Kampfgeschwader Lützow" propaganda film.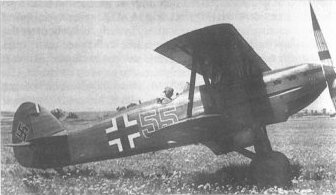 Avia B-534 (older version) used by Luftwaffe for training purposes.
Both the 3./JG 70 and 3./JG 71 based in Friedrichshafen were converted to Avias for night fighting use between July 1939 and the beginning of 1940, when they were reequipped with Messerschmitt Bf 109's.
The towing-gear equipped B-534s were initially alloted to the DFS 230 Staffel der Luftwaffe /1-10. In occupied France they served with the Henschel Hs 123 aircraft for training and then being moved within framework of the Lastenseglerstaffel to the Eastern Front, where they served as the tugs for DFS 230A troop/cargo gliders, supplying the encircled gruond troops. The dates mentioned suggest sorties to the Stalingrad pocket, but the pictures point rather to the encirclement of Germans at Demyansk a year earlier.
Avia B-534-IV used by Luftwaffe as glider tug on Eastern Front. Plane has winter camouflage and auxiliary fuel tank (well visible below the port bottom wing).
Behind plane is DFS 230 glider. (J. Zazvonil's collection)
Repairs for German B-534 and Bk-534's were provided by Kunovice plant and, also, partially the Olomuc depots.

---
LUFTWAFFE RESOURCE CENTER
>
FOREIGN BUILT AIRCRAFT
>
PREVIOUS PAGE
---